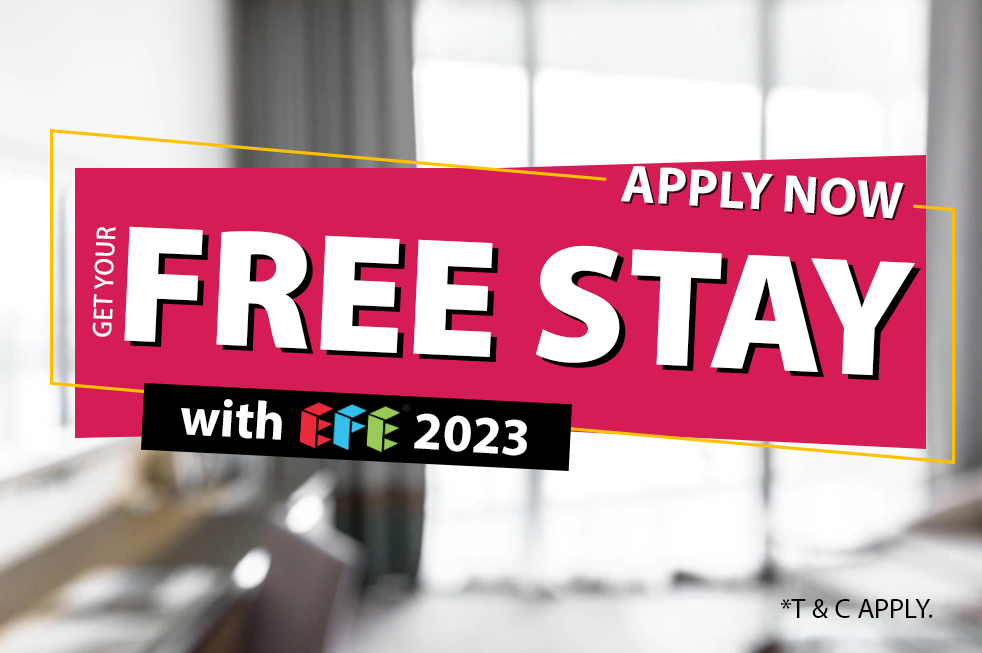 1. Free Hotel Stay is only applicable on 6-8 March 2023 at Impiana KLCC Hotel.
2. Buyers need to register at www.efe.my as a buyer and send the QR code as proof when applying for the 'Stay with EFE!' program.
3. Buyers need to provide their company information to the organizer. Any company that is not in related industry is disqualified for this program.
4. Complimentary Accommodation entitled to ONLY/MAX. 1 room 2 nights for 1 company.
5. Any extension or late check out of room nights will be at the buyer's own cost.
6. Approved buyer will need to book the hotel room via the link provided and the organizer will reimburse the 2 nights (6-8 March 2023) hotel stay maximum RM900 in total to buyer at EFE 2023.
7. Buyers need to provide official receipt from selected hotel, photocopy of passport and EFE 2023 badges for the reimbursement at EFE 2023 Exhibition Hall, KLCC.
8. The incentives are not transferable to any third parties; The presence of the applicants are compulsory, no representative is permitted.
9. Buyers' benefits are on a first come first served basis and up to discretion of the organizer.
10. The organizer has the authority to cancel the application IF buyer did not provide Compulsory Document.
11. Exhibitors are not entitled for this incentives.
12. EFE organizer reserves the right to make the final decision.
13. Application dateline: 15 February 2023.
For further information or clarification, please contact